Lift, Volumize, Smooth and Revitalize. Look and Feel Younger!
We all experience changes in our skin as we get older—from losing volume in the cheeks to seeing new lines and wrinkles pop up seemingly all over the place. If you are not happy with fine lines, wrinkles, and facial volume loss, then Botox and dermal fillers may be what you're looking for to help you regain a more youthful appearance. Discover the benefits of Botox and dermal fillers in Tucson and why you should schedule an appointment at WildBerryMD!
Botox
There are many topical products out there that claim to reduce the appearance of fine lines and wrinkles on the face. While some of these products may be able to deliver some of their promised results, they don't stop the muscle movements that cause these wrinkles and allow them to come back. That is where Botox can help. This injectable treatment stops the muscle contractions that cause wrinkles, which can create a smoother and younger-looking appearance. Botox is a noninvasive, FDA-approved treatment option that can help reduce the appearance of wrinkles and lines around the face. It is commonly used to treat forehead lines, frown lines that form between the eyebrows, crow's feet, and lipstick lines, as well as fine lines and wrinkles that form around the jawline and neck. Results can be seen within a few days and can last up to 6 months. Regular Botox treatments can help you maintain your younger-looking appearance, so you should talk to the doctor about setting up regular appointments if you are happy with your results.
JUVÉDERM
While Botox is an injectable that works by stopping the signal between the brain and the muscles that cause wrinkles, JUVÉDERM is a dermal filler. This means it works by basically filling in the lines and wrinkles or adding volume back to different areas of the face. There are different forms of JUVÉDERM that are designed for different parts of the face, and they are all noninvasive and FDA-approved. JUVÉDERM® XC is commonly used to treat the appearance of moderate to severe lines and wrinkles. Other popular forms of JUVÉDERM® include:
JUVÉDERM VOLUMA® XC: Losing volume in the cheeks is a common part of getting older, and it can lead to a more sunken-in appearance. JUVÉDERM VOLUMA® XC is injected into the cheek area to restore volume by plumping up the subdermal tissue in this part of the face. This creates a fuller and more youthful appearance. This type of the popular dermal filler provides results that can last up to 2 years!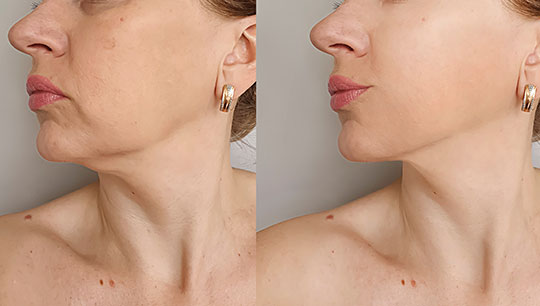 JUVÉDERM® Ultra XC: It is also common for people to lose volume in their lips and notice fine lines around the lips as they get older. JUVÉDERM® Ultra XC can be injected directly into the lips to volumize them and create a fuller pout, while also smoothing out fine lines. This form of JUVÉDERM is fantastic whether you want to regain the fuller lips of your youth or want to get the fuller lips you never had but always wanted. Results from JUVÉDERM® Ultra XC can last up to 1 year.
Why You Should Visit WildBerryMD for Botox and Dermal Fillers
You can feel confident and comfortable when you visit WildBerryMD for Botox or dermal fillers in Tucson. We will start the journey with a free facial consult to learn about your goals. During this time, we will also determine the perfect volume and smoothness for your chosen treatment. It is important to make sure your Botox or dermal filler treatment is customized to your face, bone structure, and preferences. Too many fillers can give you an unnatural balloon-type look. Not getting the right amount of filler can leave you feeling disappointed with your experience. You can also feel confident knowing that our doctor will be performing these treatments utilizing the latest injection techniques for optimal patient comfort and results. That means you can look younger and feel better with noninvasive treatments and minimal downtime!
Now is the perfect time to enhance your appearance with Botox and fillers at WildBerryMD! Our unforgettable April specials include Botox for $9 per unit and $300 savings when you buy 2 vials of JUVÉDERM fillers. You can learn more about our Botox and dermal fillers in Tucson when you call us at (520) 762-1557 or follow us on Facebook and Instagram.